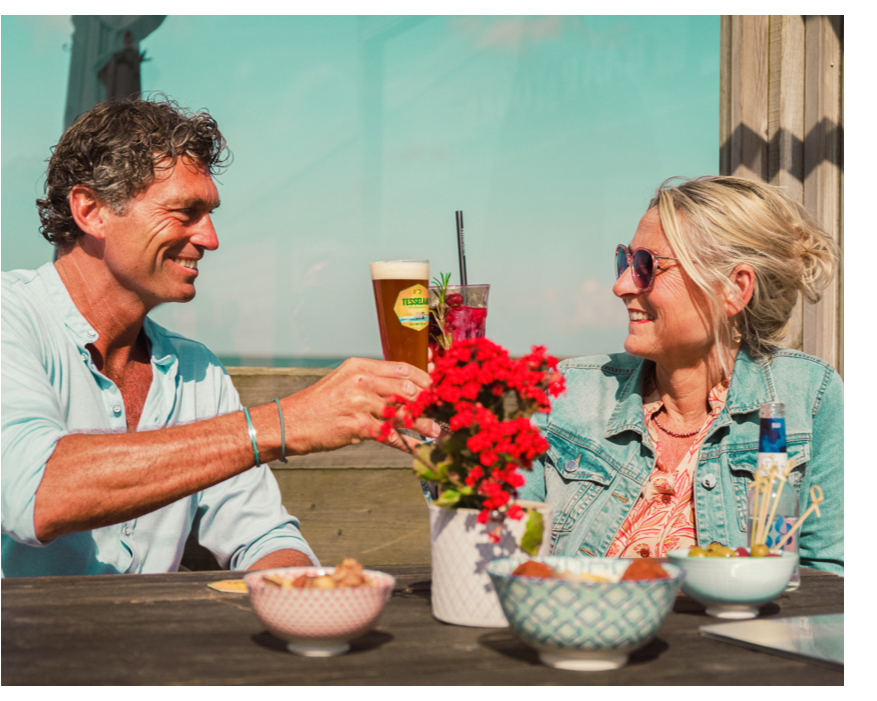 Frequently Asked Questions
- Can I book in advance?
Want to join us for lunch or drinks? We don't take bookings for this; you can simply turn up and we'll show you to a table.
Want to book for dinner? You can do this through our reservations page, by phone or in person. Of course you're welcome just to come by and we'll see what the possibilities are there and then.
- What are your opening hours?
- How many people may there be in my group?
- I have an allergy or dietary need, can I come to you?
- Is Kaap Noord accessible for the disabled?
- Do you have a beach wheelchair?
- Can I bring my children to your beach pavilion?
- What's the parking situation on Texel?
- Can I celebrate my party/wedding at your place?
- Can I collect takeaways from you?
- Can I come to you with a group?
- Can I come to you for an event?
Didn't find what you want in our Frequently Asked Questions? Or you've got a different, specific question? Please don't hesitate to get in touch with us!
Kaap Noord Beach Pavilion
Volharding 4, 1795 LH
De Cocksdorp, Texel
Tel: +31 (0)222 316340
Closed: 27 November to 13 December

Open Thursday 14 to Sunday 17 December

Every day open from 21 December to 7 January

Christmas: 24 and 25 December open all day
26 December to 17:00
Wednesday 27 December closed

New Year's Eve: 31 to 17:00 and 1 from 12:00 with live music in the afternoon

January open Wednesday to Sunday
Want to enjoy a tasty meal on Texel?
Then book now for Kaap Noord using our reservation system!